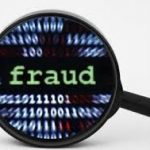 It's emerged that up to 30 people in Limavady have lost tens of thousands of pounds in "serious and sophisticated" banking fraud in the past two months.
Detectives have said a gang has used telephone and computer scams to divert money from bank accounts.
In many cases, hoax callers claim they are from banks or other financial institutions.
The BBC is reporting today that one man has lost his life savings of up to £60,000.
One of the PSNI officers involved in the investiogation says people have lost everything they ever had.
Sergeant Ian Hunt said there are cases right around Northern Ireland, but Limavady is a particular concern at the moment. He suggested that may be because the area has lost a few banks recently.
He added the themes of the approaches vary, but they are generally aimed at getting people to disclose personal financial details such as PIN codes.
A typical ploy is to claim that a suspicious transaction had been identified in a person's bank account and that often leads on to persuading the individual to transfer money from a genuine account into another account, which the fraudster controls.
In the event of people receiving calls from financial institutions, he stressed the importance of not giving out financial details or agreeing to any transaction, and not to respond to email addresses or phone numbers provided by the caller.
People in doubt shouls check the legitimacy of any approach by contacting the named bank on a number they know to be genuine.