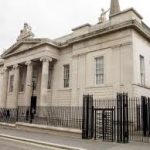 A District Judge has described a Derry family as 'disgraceful' and a 'blight on the landscape' when he dealt with two sisters today at the local Magistrate's Court.
Judge Barney McElholm's comments came during a hearing involving Bridget (23) and Eileen Mongan (25) both of Stanley's Walk in Derry.
The court heard that Eileen Mongan was released from prison yesterday (Wednesday) and within hours was re-arrested for disorderly behaviour.
Bridget Mongan, who was at the centre of controversy after she was lifted from the road by two police officers in March and left in a bus lane, was appearing for her fourth breach of bail.
A prosecuting solicitor outlined the case against Eileen Mongan.
He said that the owners of a Bed and Breakfast called police requesting that several people be removed from the premises as they were arguing.
When police arrived the group which included both Mongans agreed to leave but as they were departing Eileen Mongan began flailing her arms about and shouted 'scum b——s' at police.
She was warned about her behaviour and continued and at one stage stuck her face right into an officer's face and called them 'scum orange b——s'.
She was eventually arrested.
Bridget Mongan who is on bail for an attack in the Intensive Care Unit of Derry's Altnagelvin Hospital was arrested for having consumed alcohol in breach of her bail conditions.
Defence solicitor Mr. Seamus Quigley said Eileen Mongan had been released yesterday from a sentence she had been serving for public order offences. She had booked the B&B for her and her partner then others arrived and they were ejected. He said she was 'apologetic' about her behaviour and added that her tolerance for alcohol would have been lowered due to her time in prison.
As regards Bridget Mongan he said she had been released on High Court bail on May 2 after being locked up for her third breach of bail at the end of April.
The solicitor said that she had not taken a drink until her sister's release.
Judge McElholm said that Bridget Mongan would not 'pay the slightest attention' to bail conditions.
He said it was her 4th breach of bail. Turning to Mongan who was crying in the dock, the judge told her to 'stop your whinging it does not impress me.' He estreeted £100 of her bail and ordered her to pay £7 a week in installments.
He also told the solicitor that if Mongan was back for breaching bail 'I won't even listen to you.'
As regards Eileen Mongan the judge said she couldn't even last 24 hours.
He added: "The behaviour of this family is just disgraceful. A blight on the landscape."
He sentenced Eileen Mongan to 4 months in prison suspended for 2 years and fined her £200 which she must pay at the rate of £5 per week.