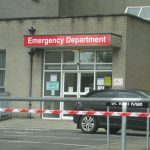 Management at Letterkenny General Hospital are today again asking people to avoid the Emergency Department today if possible.
The hospital remains very busy today.
There has been a lot of emergency admissions over the past few days and high bed occupancy levels are still causing delays in moving patients from the Emergency Department to the wards.
Management at the hospital are asking the public for their understanding for any delays that may occur while it responds to the current workload.
Patients are asked to contact their GP or GP Out of Hours services in the first instance.