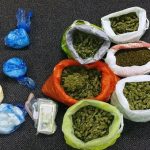 More than 20 drugs arrests were made during the weekend at a tribute rock festival in Ballyshannon, Co. Donegal.
Gardai said one dealer with nearly €1,000 of ecstasy tablets was arrested at the Rory Gallagher festival.
A spokesman said most of the rest of the drugs arrests were for simple cannabis possession.
Gardai said there were only four arrests for public order offences in a crowd of about 10,.000 over four days.