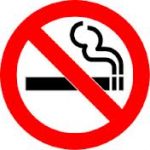 Donegal pubs and businesses have dominated a list of smoking ban breaches.
The HSE published the list today saying, in general, compliance with the Public Health (Tobacco) Act, which banned smoking in the workplace including pubs, had been high since its introduction 10 years ago.
In total 11 premises breached the smoking ban in the first three months of this year; seven in Donegal, one in Dublin, one in Tipperary, one in Monaghan and one in Wexford.
The seven breaches in Donegal saw a number of pubs and other businesses pay over 7,000 euro in fines and costs.
Colls Bar in Gortahork, and the Bay Bush Bar and Jamsies Bar in Ballintra all had to pay costs and fines of almost 1,000 euro in January and February of this year, while The Cottage Bar in Letterkenny had to pay out 1,500 euro in March.
Meanwhile, the owners of the Corner Shop, Oldtown, Letterkenny and the Falcaragh Service Station where both fined on the 4th of March this year for breaching smoking laws.