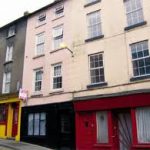 The number of vacant commercial premises in Donegal is still above the national average according to first quarter figures published by GeoDirectory.
With a vacancy rate of 13%, that's an increase of .6% over the same period last year, showing vacancy continues to be a significant issue in the county.
With a vacancy rate of 13%, against a national average of 12.4%, Donegal is one of 13 counties to record a higher than average percentage rate.
1,207 of the 9,258 commercial addresses recorded in Donegal in Q1 2014 were vacant.
It's an issue across the North West, Sligo has the highest vacancy rate in the country at 16%, Leitrim is at 15.3%.
4.1% of the country's vacant address points are in Donegal according to the GeoDirectory figures, the joint fifth highest level in the country after Dublin, Cork, Galway and Limerick.