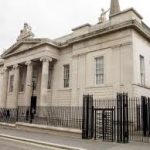 A man who shouted at police officers "I will have you shot", has been given a five month jail sentence, suspended for 18 months.
43-year-old Declan Smith, from Glenabbey Road in Derry, was arrested on Monday after he verbally abused police officers who were on patrol near his home.
During a special sitting of Derry Magistrates Court yesterday, Smith admitted trying to open the door of a police car and shouting abuse at the officers.
He also gave officers a false name after he was arrested.
Smith, who in 2008 became the first man in Northern Ireland to have a Taser stun gun used on him by police, has 10 previous convictions. Seven of them for public order offences.
His solicitor told Judge Peter King that when Smith was drunk he became angry because the stun gun incident still preyed on his mind.