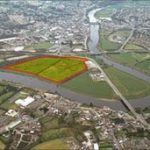 The £50 Million Strabane Three Rivers Project which has the potential to create up to 1,700 jobs has today been given the green light by the SDLP Minister for the Environment, Mark H Durkan.
The project includes a 90-bed hotel, a retail food store, a garden centre, petrol filling station, a children's play area, a sports and wellbeing centre and a river wildlife centre, along with environmental and access infrastructure.
Niall Mc Ateer is Director of the Three Rivers Project………..


Minister Mark H Durkan says the delay in approving the project was based on the need to ensure that the decision was legal, and he believes he has done the right thing for Strabane.
He acknowledges that some town centre businesses will be concerned at the development, but says every possibility to bring investment into the area must be explored…………

Podcast: Play in new window | Download