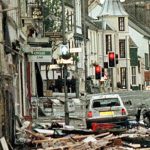 12 people who have been arrested by police investigating 'violent dissident republican' activity in the North.
The men – aged between 36 and 75 – were picked up at a house in Newry.
One of the chief suspects in the Real IRA bombing in Omagh was arrested this morning in a major security operation against republican dissidents.
The veteran republican was detained along with 11 others in the Newry area.
The men, aged between 36 and 75, were arrested at a house in the Ardcane Park in Newry yesterday evening.
All 12, including the man police believe made the bomb that devastated Omagh in 1998, killing 29 people, are being questioned at the Police Service of Northern Ireland's serious crime suite in Antrim.
It is understood that all 12 detainees were attending a republican meeting when the PSNI swooped on the house.