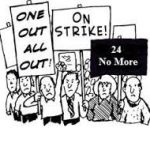 Pickets are in place outside Letterkenny General Hospital this morning as Non Consultant Hospital Doctors withdraw services from 51 hospitals across the state.
More than 3,000 doctors are taking part in the move following a long running dispute with the HSE over working hours.
The 24 action got underway at 7 o'clock this morning, but doctors have agreed to provide weekend cover for in-patients and emergency care.
Dr. Shane Considine is a member of the Irish Medical Organisation's NCHD committee – He says at this stage, it's likely a threatened escalation of the action next week will go ahead………..

Podcast: Play in new window | Download