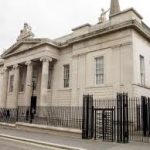 Two women have been remanded in custody after what a judge described as 'an invasion' of the Intensive Care Unit at Derry's Altnagelvin Hospital.
Bridget Mongan (23) of 46a, Stanley's Walk in Derry and Eileen Stokes (29) of Mourne Park in Newtownstewart both face a total of five charges.
They were charged with attempted grievous bodily harm on a man who was a patient in the ICU, three charges of assault and one of being disorderly in the hospital all of which were said to have occurred on January 4.
A police officer told the court that police received a 999 call from the ICU at abut 9 p.m. in relation to an ongoing disturbance involving two females.
When they arrived a doctor told them that the two defendants had been at the hospital for most of the day visiting a man, Stokes' partner, who was in a semi conscious state.
They left and came back intoxicated and after entering the ward they were alleged to have begun to slap and punch the patient about the head and face and shouting abuse at medical staff.
They also attempted to pull out drips that had been inserted in the patient.
Their actions were said to have caused the patients condition to become unstable and his blood pressure and pulse rose.
They were said to have continued to slap the patient and at one stage a doctor had to lie across the patient in an attempt to protect him. Mongan was said to have tried to pull him off.
They eventually were persuaded to leave but returned again and tried to run to the patient and staff had to leave other patients they were treating to stop them.
Stokes was alleged to have got into the ward and pulled the man across the bed.
After being arrested both women told police they had little recollection after having consumed alcohol.
They said they had asked doctors to wake the man up.
The police officer said that they were opposing bail as staff at the ICU said they could not provide a 24-hour guard on the man and if released the women could cause further harm to the man.
Defence solicitor Mr. Keith Kyle asked had his clients been at the hospital earlier without incident and the police officer said there had been an incident the previous day that ended when the women agreed to leave.
Mr. Kyle said it was 'an unpleasant incident' but added that the women had not gone there with the intention of causing any harm.
District Judge Barney McElholm said that in some case attempting to pull drips out could be attempted murder. He said it was 'an outrageous incident' and that only for the intervention of medical staff it could have been more serious.
He said he had dealt with many cases of incidents in the hospital but this one was 'a stage further' and was 'an invasion of the ICU which above all should be a place of sanctuary.'
He said as long as the man remained in the ICU the women could not be released and added that he did not think there were any conditions that they would abide by.
He added that he was not prepared to take a risk to either the patient nor medical staff. Refusing bail he remanded both women, one of whom Stokes wept throughout the case, in custody to appear again on January 23.